The Many Faces of Green - Wonderful Handmade Wednesday on Indiemade - August 25, 2015
Posted August 26, 2015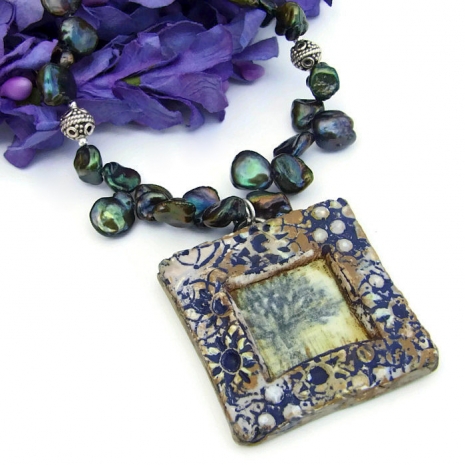 Green is a favorite color of many people since it is the predominant terrestrial color of Mother Nature. It is considered by many to be the most restful of colors, being a favorite color choice for bedrooms. But the color green wears many faces, both in its numerous beautiful shades and its interesting historical context. I found the history and symbolism of green to be fascinating and decided to share some of what I found: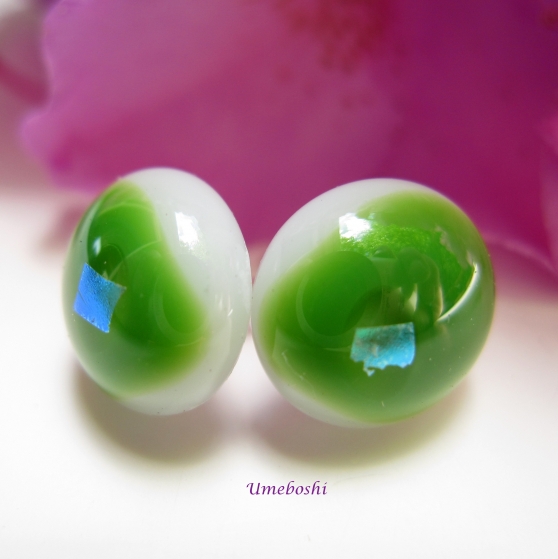 "Elfin Magic" green and white dichroic fused glass post earrings handmade by Jo of Umeboshi
The word "green" is linguistically related to the Old English verb "growan" which means "to grow" or "to turn green". The first recorded use of the word as a color term in Old English dates to around AD 700. Across most cultures, the color is commonly associated with nature, fertility, growth and healing. A person with a "green thumb" is good at making plants flourish and "green rooms" are where performers relax before going onstage. However, the color green has another face, and can be used to refer to envy, illness and even death. If you are "green around the gills", you look sickly. Jealousy is often called the "green eyed monster".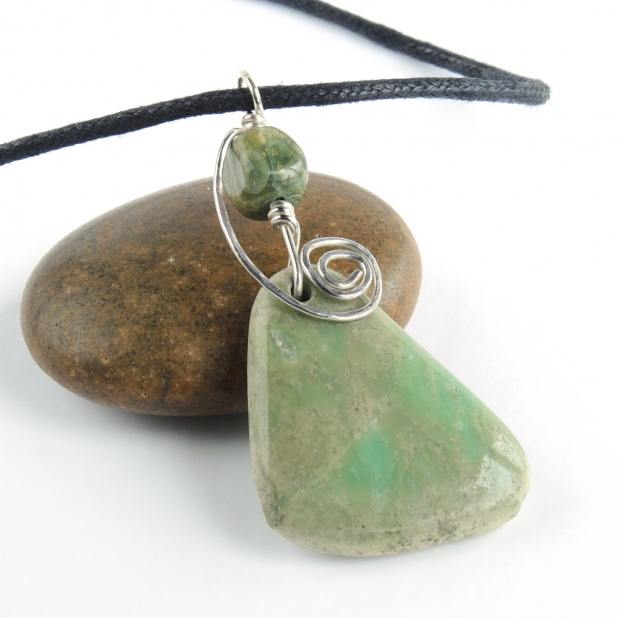 Sage green and earthy tan tumbled stone pendant necklace, 24", handmade by Pamela of PebblesatmyFeet
Because ancient man lived hand in hand with the natural world, the color green has much symbolism and lore associated with it. Green was the color of resurrection and immortality in ancient Egypt. Osiris, the god of the underworld and vegetation, was one of the first "green men" because he was depicted as having green skin. The floors of many Egyptian temples were often painted green to represent the grass which grew along the life-giving Nile River. Lining many temples bases were carvings of papyrus, lotus and other plants.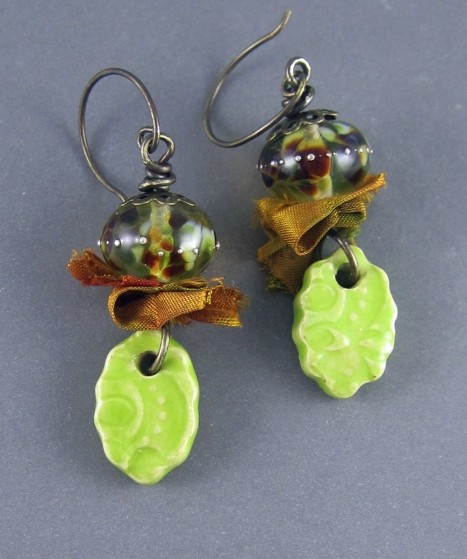 Lime green artisan ceramic charms, lampwork bead and sari silk "Garden Path" earrings handmade by Linda of LindaLandigJewelry
In ancient Greece, green was an important symbol of victory. In China, green was associated with the east because of the rising sun and, with it the return of the sun, life and growth. In Thailand, dark green was considered lucky for those born during the day on a Wednesday. If you were born on Wednesday night, your lucky color was light green. Scottish Highlanders wore green as a mark of high honor. Up until the 20th century, green was the traditional color for European hunters to wear, especially the shade called, appropriately enough, "hunters green". Now most hunters wear olive drab or camouflage.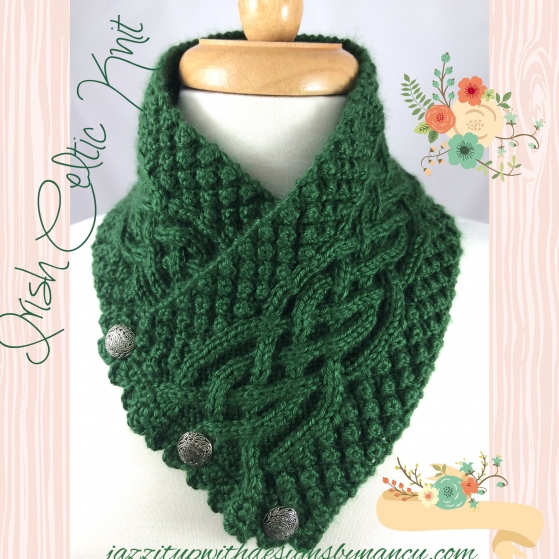 Dark sage green hand knit Celtic knot trinity design neckwarmer handmade by Nancy of Jazz it Up with Designs by Nancy
Green has great religious symbolism, as well. Roman Catholic and some Protestant clergy wear green vestments in the season after the Epiphany and after Pentecost to represent rebirth and life. Clergy of the Eastern Catholic Church wear green on Palm Sunday and during Pentecost as symbol of resurrection. Because it was said to be Mohammed's favorite color, green is a sacred color to Muslims. Mohammed is said to prefer to wear a green cloak and turban and his writings constantly refer to the color. A passage from the Quran describes paradise as a place where people "will wear green garments of fine silk." In Hindu and Buddhist traditions, the green heart chakra represents the point of balance between deep earth (prime creation, foundation) and elevated reality (spiritual and metaphysical creativity). Green symbolizes the master healer and life force.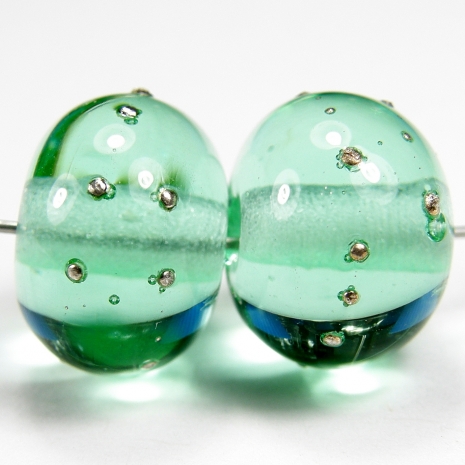 Pale emerald green transparent lampwork glass beads with fine silver handmade by Charlotte of Covergirlbeads
In early English folklore, green could also signify witchcraft and devilry. It was often associated with faeries and evil spirits, especially those that snatched babies and young children. Even today, with the exception of St. Patrick's Day, the wearin' o' the green can be considered unlucky in Ireland. Green is supposed to be the favorite color of the Little People and if you wore too much of it, you could offend them and they could cause havoc by drying up your cows, ruining your crops, etc. Green cars, wedding dresses(!!!) and theater costumes are all objects of intense superstition.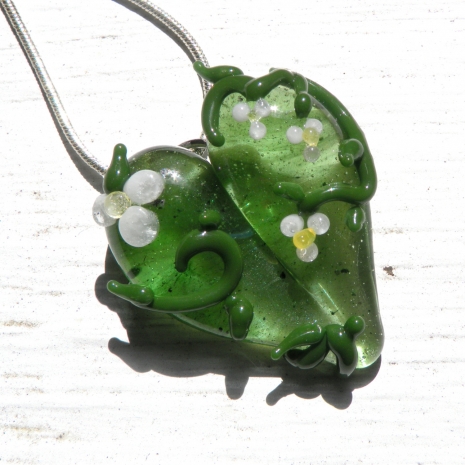 Green "Wildflower Garden" lampwork boro glass heart handmade by Breanna of Untamed Rose
If you look at the flags of the world, many use green in the designs for symbolic or cultural reasons. Green is one of the three colors, along with red and black, of Pan-Africanism and represents the natural richness of the continent. Many African countries use green in their flags, including South Africa, Ethiopia, Zimbabwe, Benin and others. Many flags of the Islamic world are green due the sacredness of the color. Jamaica uses the color to represent the country's lush vegetation. The green in the flags of Wales, Hungary and Brazil represents "jolliness and youth". Often referred to as the "Emerald Isle", Ireland adopted its tricolor flag in 1919: green represents the Gaelic tradition of the country; orange represents the followers of William of Orange in Ireland; and, white represents the peace, or truce, between the two.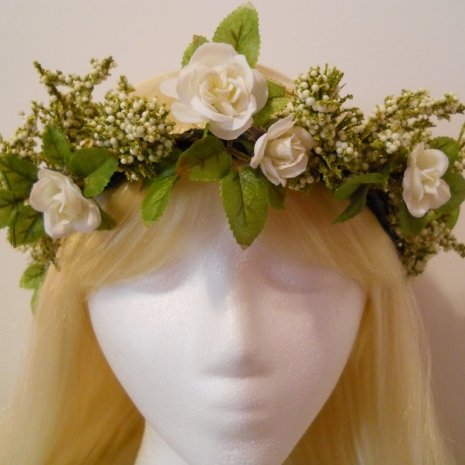 Greenery, white roses and babies breath wedding / bridal flower crown handmade by Michele of MicheleMyFairy
Chosen for its association with nature, health and growth, today green has become the symbolic color of environmentalism. The political Green Party emphasizes ecology, grassroots democracy, nonviolence and social justice. Green Parties are active in over 100 countries. A heightened public awareness and concern about the environment has sparked a "go green" movement.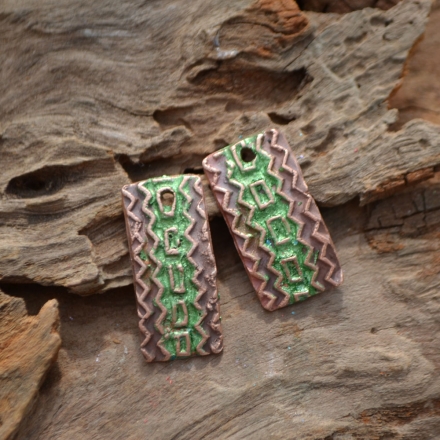 Tribal textured copper rectangles with hand painted with metallic green handmade by Krsiti of KristiBowmanDesign
I could share MUCH, MUCH more of what I found about the fabulous color green, but maybe since you've had a taste of what I found, you'll read a little more on your own. Here are a few more fabulous green items from Indiemade shops: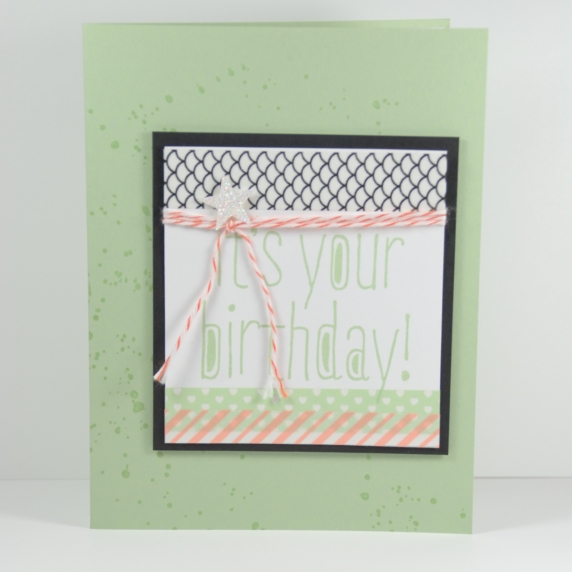 Pistachio pudding green "It's Your Birthday" greeting card with a sparkly star and washi tape handmade by Lisa of Cards by Li Be!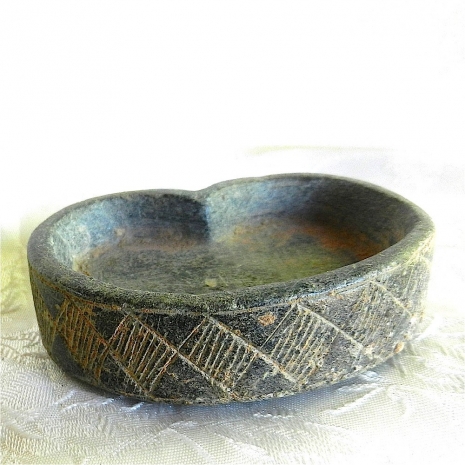 Olive green ancient Bactrian carved steatite dish, approximately 4,000 years old offered by Anna of Anna's Faire
Green moss agate gemstone and Thai Hill Tribes fine silver Tree of Life pendant necklace handmade by Catherine of Shadow Dog Designs
I hope you enjoyed this collection of a wide variety of green - both the items and the different shades. If you would like to make my day and the day of the artists featured, please leave a comment. And any promotion you can do will be greatly appreciated. Thanks!
My contact information:
Indiemade shop: ShadowDogDesigns
Indiemade blog: ShadowDogDesigns' Blog
Artfire studio: ShadowDogDesigns
ArtFire Blog: ShadowDogDesigns' Blog
Google+: Catherine W
Facebook: ShadowDogDesigns - Jewelry
Twitter: ShadowDogDesign
Pinterest: Shadow Dog Designs
Wanelo: ShadowDog
Amazine: ShadowDogDesigns
Rebelmouse: ShadowDogDesigns
Flickr: Shadow Dog Designs' Photostream
Shadow Dog Designs
Beautifully Unique Handmade Jewelry
for the Discerning Woman
» Tagged:
antique
,
antique dish
,
birthday card
,
copper charms
,
earrings
,
flower crown
,
green
,
handmade
,
Indiemade
,
jewelry
,
knit
,
lampwork
,
necklaces
,
neckwarmer
,
pendants
,
Shadow Dog Designs
,
ShadowDogDesigns
,
Tree of Life
» Share: