Autumn is in the Air - Wonderful Handmade Wednesday on Indiemade - September 16, 2015
Posted September 16, 2015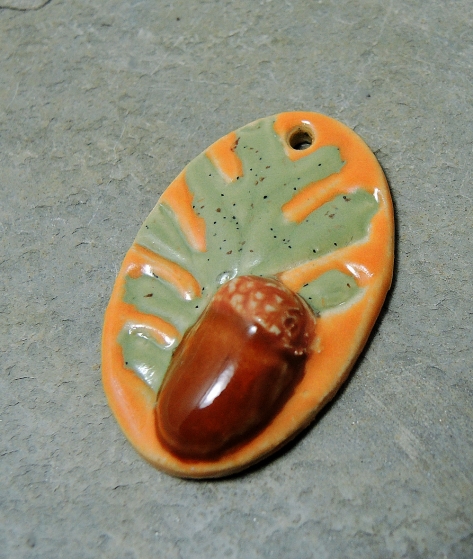 Autumn is definitely in the air here in El Paso. Even though the temperatures are still rising into the low 90's during the day, the nights are cooling off beautifully. Seamus spends more time chasing lizards and dogging around in the back yard instead of seeking shade as soon as he goes out. I'm having to fill the hummingbird feeder continuously as the flying gems gorge on the energizing sugar water before making their long flight to Central America. The big sky is an intense blue, the wild sunflowers are blooming down in the arroyo . . . life is definitely good!
To celebrate the start of the change of fall season, I decided this week's "Wonderful Handmade Wednesday" post will welcome autumn, my favorite time of the year. The handmade items chosen not only represent the colors of autumn, but also things you might need: a soul satisfying hot cup of coffee or tissues for those sneezes. I hope you enjoy these picks: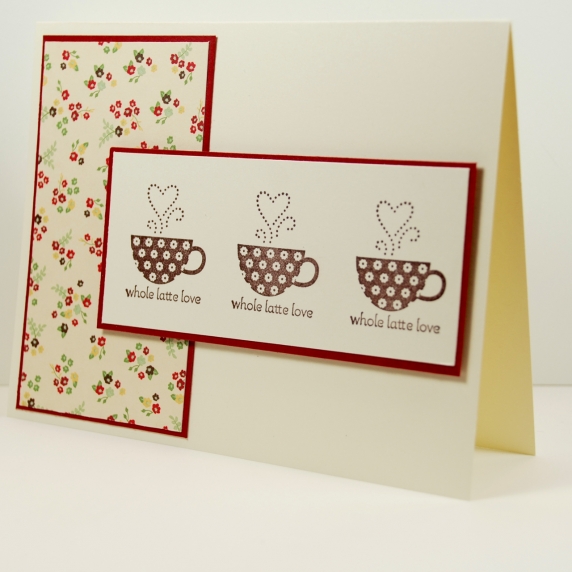 "Whole Latte Love" with hearts greeting card handmade by Lisa of Cards by Li Be!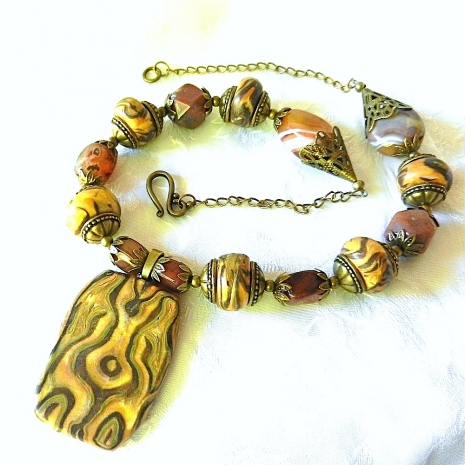 Gold and brown Natasha style polymer clay pendant necklace handmade by Anna of Anna's Faire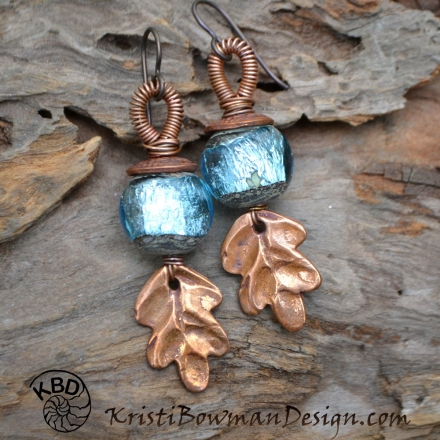 "First Frost" lampwork and copper leaf dangle earrings handmade by Kristi of KristiBowmanDesign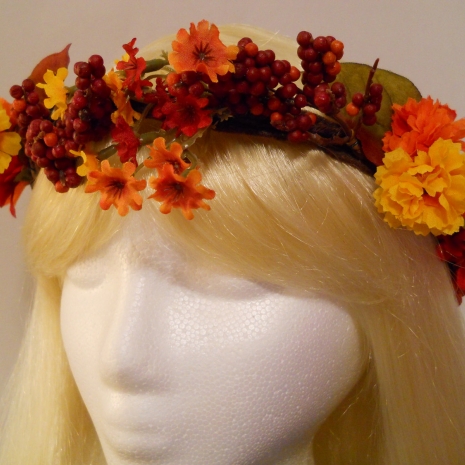 Autumn / Indian summer flower crown with mums, marigolds, berries and oak leaves handmade by Michele of MicheleMyFairy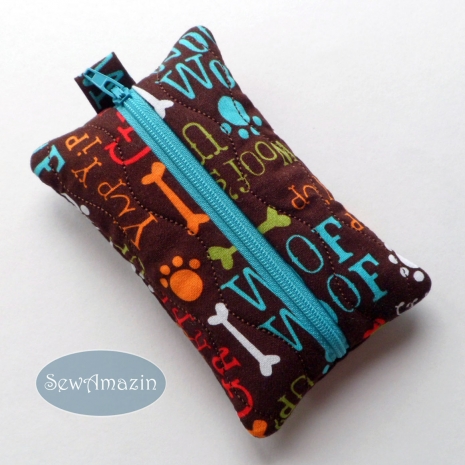 "Woofs Up" dog lovers pocket / travel tissue holder case handmade by Donna of SewAmazin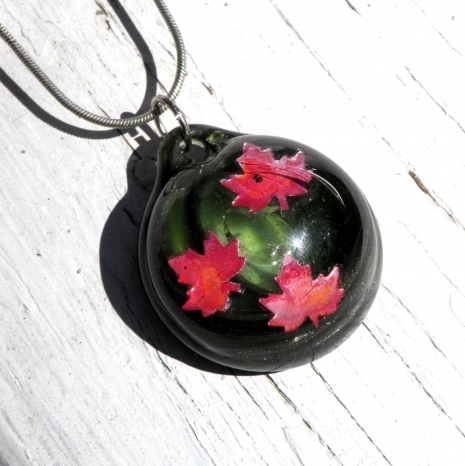 Copper leaves hand blown boro lampwork glass pendant by Breanna of Untamed Rose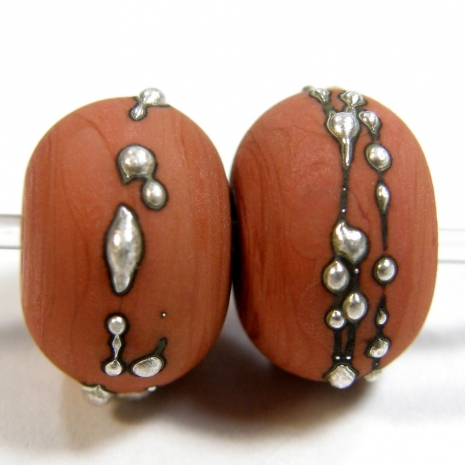 Etched Hawaiian clay terracotta lampwork glass beads with fine silver dots handmade by Charlotte of Covergirlbeads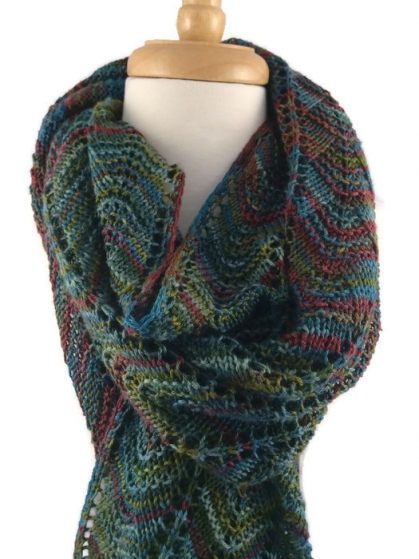 "Autumn Splendor" hand knit shawl wrap in wool, silk and polyamide blend handmade by Nancy of Jazz it Up with Designs by Nancy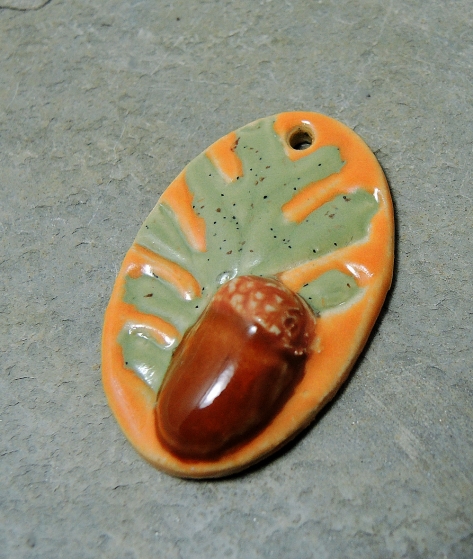 Sage green, brown and orange oak leaf and acorn ceramic pendant handmade by Linda of Linda Landig Jewelry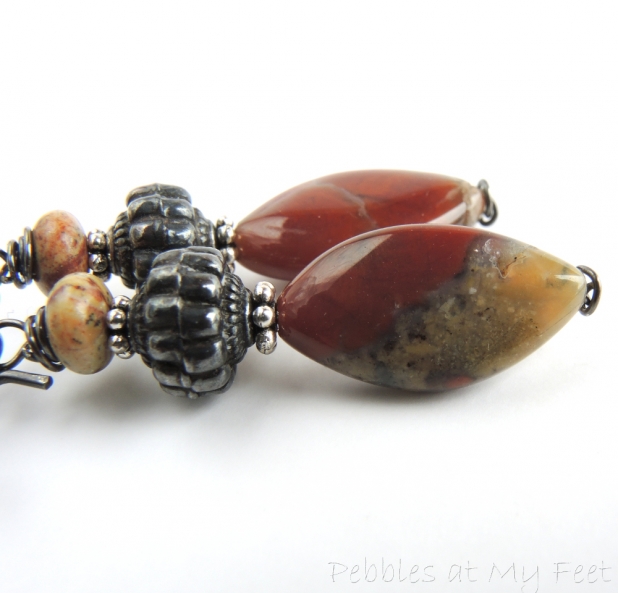 Earthy red and brown jasper and chalcedony stone earrings with antiqued silver handmade by Pamela of Pebbles at my Feet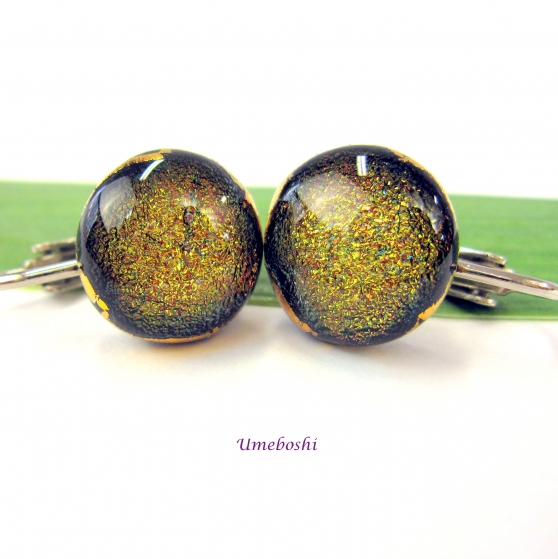 Amber cat's eye round dichroic fused glass clip on earrings handmade by Jo of Umeboshi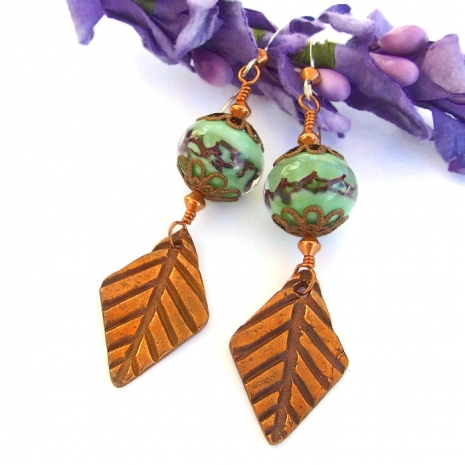 Copper leaves, green lampwork and copper filigree dangle earrings handmade by Catherine of Shadow Dog Designs
I hope you enjoyed these autumn inspired handmade selections! If you would like to make my day and the day of the artists featured, please leave a comment. And any promotion you can do will be greatly appreciated. Thanks!
My contact information:
Indiemade shop: ShadowDogDesigns
Indiemade blog: ShadowDogDesigns' Blog
Artfire studio: ShadowDogDesigns
ArtFire Blog: ShadowDogDesigns' Blog
Google+: Catherine W
Facebook: ShadowDogDesigns - Jewelry
Twitter: ShadowDogDesign
Pinterest: Shadow Dog Designs
Wanelo: ShadowDog
Amazine: ShadowDogDesigns
Rebelmouse: ShadowDogDesigns
Flickr: Shadow Dog Designs' Photostream
Shadow Dog Designs
Beautifully Unique Handmade Jewelry
for the Discerning Woman
» Tagged:
autumn
,
cards
,
earrings
,
fall
,
flower crown
,
handmade
,
Indiemade
,
jewelry
,
lampwork
,
leaves
,
necklaces
,
pendants
,
ShadowDogDesigns
,
shawl
,
Sjhadow Dog designs
,
tissue case
» Share: